We all want to keep our valuables safe. Locks have been essential to our everyday lives since the days of ancient Babylon and Egypt. Their design has been so successful that we've stuck with it. Most people don't give how locks work much thought, but we are very thankful that they do. Knowing how locks work could be one of the most useful resources you will have.
Let us give you an inside eye on the ever illusive lock and key!
The Key
All keys have different specific notches. Those notches are like fingerprints matching to only one lock. Isn't that thought amazing? When a notch is worn down or damaged, there is a good chance that it won't work with the lock anymore. That is why keeping a fresh, unused copy in a safe place is a great idea. This saves you the trouble of having to replace the lock. Even though it's a pain sometimes to deal with, it's one of the best ways to keep us safe.
The Traditional Pin-and-Tumbler Lock
Inside the lock, there are spring-loaded pins on a track called the shear line. The pins go up and down, lining up with the notches of a key. Each pin is set to move according to the shape of the notch. If the notch is too high or low to the pin, it will not move. When the key aligns with all the pins just right, they allow the cylinder to turn, allowing the lock to open.
The Combination Lock
Combination locks usually function with a set of wheels inside, determined upon how many numbers there are. There are also several other mechanical devices that work with the wheels. When you turn the dial to the correct number, notches on the wheels line up to create a gap. A piece called a fence, by the force of its own weight, falls into the gap. This allows the lock to open.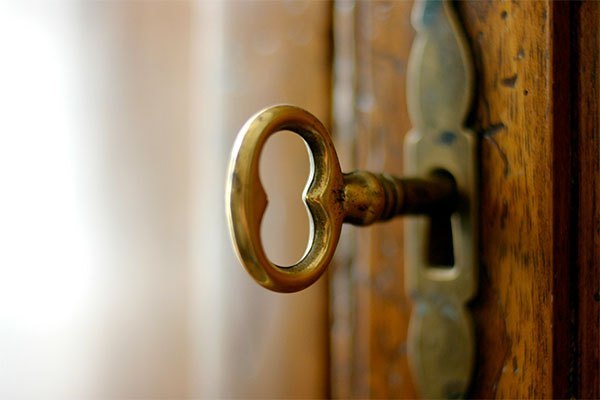 Protecting our Valuables
People speak of electronic devices becoming so sophisticated in protecting our valuables that the world will transform into a key-less future. We install smart phone entry system devices for homes and office spaces now. Who knows what the future will be for traditional and electronic key systems. The bottom line certainly remains we all want to protect what is ours! Knowing how the traditional mechanical keys work can help you out of the of the worst situations. Whether it's protecting your house or your privacy, we're glad they are around! Click here to learn more or to contact us!