It is easy to install, feature-rich, and works with most voice assistants.
How do smart locks work?
An old school lock typically contains internal pins, and when you insert the proper key, it puts the exact right amount of pressure on each pin and the lock opens. Smart locks are electronic, and they work using a keypad, touch pad, or other means; and they also work with your smartphone, so you can operate them remotely via Wi-Fi. To work, they typically have electronic parts like small motors and actuators, and when you unlock the device with your smartphone or through other means, you're sending an electrical impulse to the device, as opposed to inserting a key and physically moving pins.
Can I install a smart lock myself?
This depends on the smart lock you purchase and your DIY skills. Some locks, like the August Smart Lock, retrofit over your existing deadbolt, which makes them incredibly easy to install in about 10 minutes. Other locks require a bit more effort, but you can probably self-install if you're handy with a screwdriver and hammer. The Kwikset Kevo Convert is an example. You'll need a few tools, but you can get the job done in less than an hour. You just need to pop off your old deadbolt and replace it with the Kwikset Lock. On the other end of the spectrum, some smart locks, like Schlage Sense, have a more complicated installation process.
Can Alexa or Google Assistant control smart locks?
Smart locks typically have a corresponding app, which is compatible with Alexa, HomeKit, and/or one of the other voice assistants. This allows you to use voice commands like, "Alexa, lock the door," or "Alexa, is my door locked." To find out specific voice assistant compatibility, visit the manufacturer's website.
Are smart locks secure?
As with any Wi-Fi connected device, there's always a small risk the device will be hacked if the user doesn't take steps to protect themselves. However, there's also a risk that someone can breach or pick a regular (non-smart) door lock.
By taking the proper precautions, like using a strong and unique password and taking advantage of two-factor authentication when available, this can help to greatly reduce the risk of a breach.
Do smart locks also work with a key?
Some smart locks work with a key and some don't. Smart locks typically allow you to remotely control your lock via Bluetooth, Wi-Fi, or Z-wave. So, you can operate the lock without a key, and perhaps even when you're away from your home. Smart locks may also include a key fob, key pad, or fingerprinting system in lieu of (or in addition to) a standard key.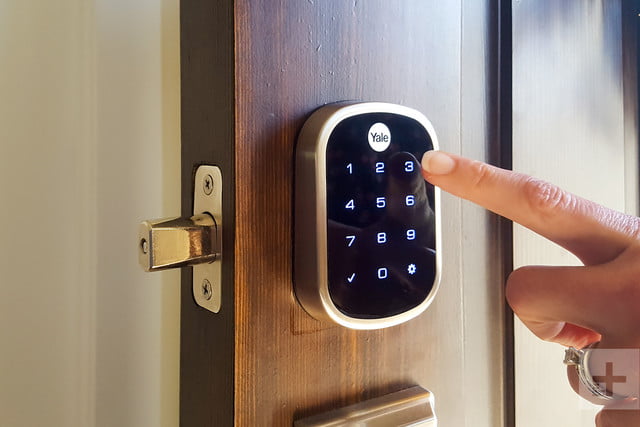 Some of the corresponding apps also allow you to issue temporary access (eKeys) to guests, neighbors, or work people who need to enter your home temporarily. This way, you don't need to give them a tangible key and worry about them making a copy of your house key.
Can smart locks work with geofencing?
Some smart locks, like the August Smart Lock, have geofencing. If you set up the geofencing feature, it can detect when you're nearby (or when your phone is nearby) and unlock the door when you approach. It can also detect when your phone has left a specific vicinity, and then automatically lock the door. You set this feature up in the smart lock's app.
Do I need a smart doorbell with my smart lock?
A smart lock can help you to prevent or grant access to your home, and it acts as a barrier to entry. However, few smart locks (few good ones at least) have cameras, and a smart lock doesn't provide the same features as a video doorbell, which acts as a sort of digital doorman.
A smart video doorbell can show you who's at the door, so you know whether or not you want to answer for that person. A good video doorbell can also act as additional security, catching suspicious activity on video and helping to deter porch pirates.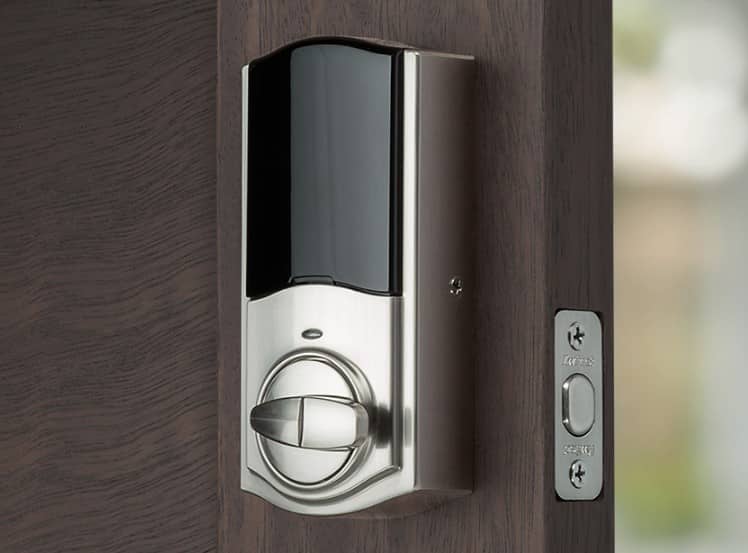 Does a smart lock require a smart home hub?
You can get a smart lock up and running with just the device and your phone. However, some locks require an additional network module or an added subscription fee if you want to have all of the features the lock has to offer. If you want to use your compatible smart lock with Alexa or Google Assistant, you typically just need any Amazon Echo or Google Home speaker. You shouldn't require a smart home Hub with most locks.
What's the best platform to by into – Ring, Nest, or another?
This depends on the features you want. Do you want a system where the products all work in tandem? Nest does a good job of making its smart products work together. For instance, when you unlock your Nest X Yale Lock, this can automatically disarm your Nest Secure security system as well. Do you want to focus on affordability? Your best bet might be to go with the older models or to mix platforms. You can still set up routines and control your devices via the Alexa app. Do you want Alexa-compatible products? Ring is a solid option. Want Google Home compatibility? Nest is a good choice. Again, it all depends on your individual preferences.