Moving into a new home is an exciting time. It's also one of the most hectic. Well, not that we want to add to your undoubtedly long list, but we're going to anyway.
Whether you're moving into a rental or buying a home, these are a few steps you should take as soon as possible to ensure your new home is as safe as possible. 
Schedule Lock Rekeying
Unfortunately, there's no good way to know who has a key to your home. The good news is that you can easily negate all of those old keys with a simple step that doesn't take long and usually only costs around $30-50. Rekeying replaces the pins inside each lock's tumbler — the mechanism that dictates whether a key will unlock the door or not.
Replacing the pins will make sure that any old keys floating around won't open your door, and you don't need to worry about buying new locks or changing out the hardware! It's an ideal way to boost your new home's security quickly, and you can schedule your rekeying to happen the same day you get the keys so there isn't any gap in security.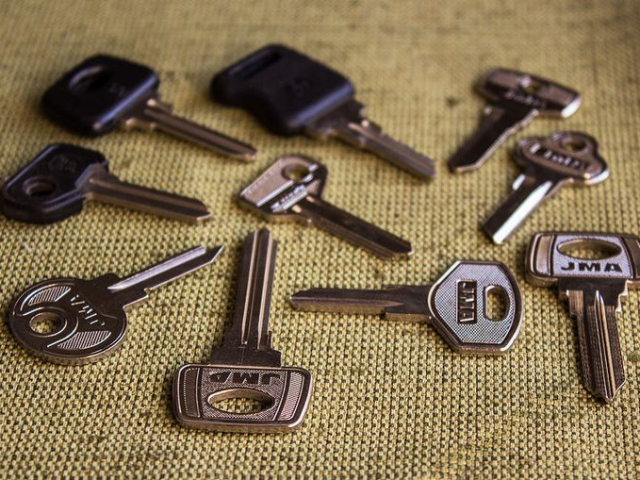 And, because we know you probably won't think of it, here's a quick reminder: if you have an assigned mailbox in one of those multi-box units, you can also have your local locksmith rekey or replace your mailbox lock for better mail security!
Repair or Replace Locks
One of the biggest invitations to any home burglar is a lock that obviously doesn't work the way it should — because those are the locks that can easily and quickly be forced open. This includes locks that are difficult to turn but even more important are the locks that are loose and wobbly.
The best thing you can do to avoid a break-in due to a faulty lock is to call your local locksmith for lock repair or replacement as soon as possible after you get the keys. That way, you can trust that the locks are installed/repaired correctly and will do their job by standing strong against burglary attempts. 
Have Your Safe Moved/Installed
A home safe is a great way to create an additional layer of security to protect important documents and valuables, like jewelry, that you don't need every day. What many folks don't know, however, is that a home safe is only really effective if it's installed correctly.
Otherwise, a burglar can often just carry the safe with them and worry about opening it later, in a secure location. If you have valuables to protect, make sure your safe is either dropped into the floor or secured to the studs somewhere in your home. 
Keeping Your New Home Safe
One of the best things you can do when moving into a new home is to connect with your local locksmith team. From security assessments and rekeying to safe installation, and more, we can help you protect those people and things that matter most to you. Call Redlands Lock & Key today for experienced, local locksmith help in Redlands and the surrounding areas.